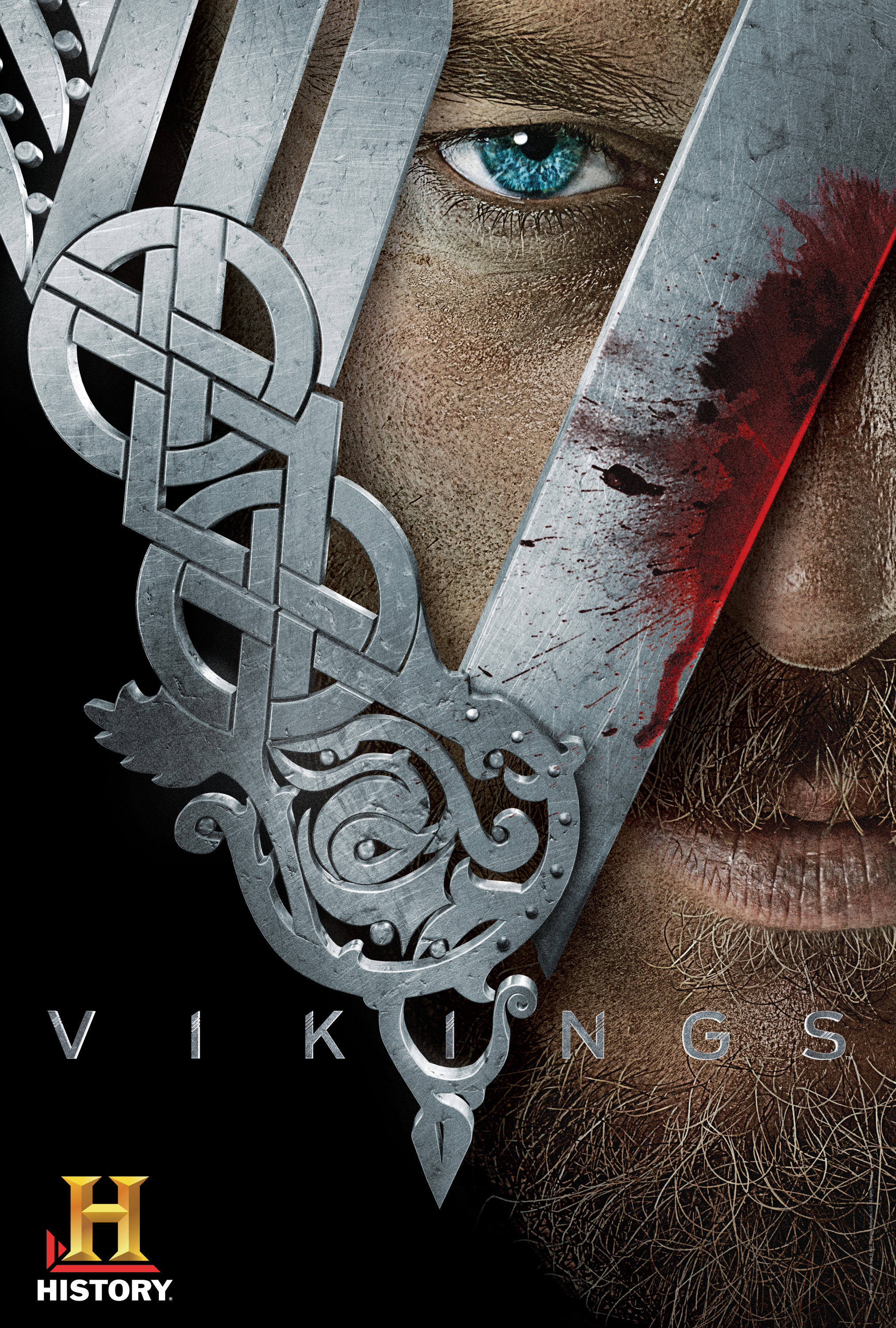 When I was growing up I loved "History Channel". There was something about history that always haunted me and that channel was like Holy Grail I never came to enjoy (we didn't have a cable subscription at the time). Today that Holy Grail has become more an empty cup than anything else. Pseudo-documentaries, conspiracy theories and antique dealers are dominating the program and between aliens, Templars and pyramids, it's hard to decide what exactly the relevant history material is. But sometimes, in the rare moments, "History Channel" finds its former glory and it does that mostly with an original programming. We saw that in "Hatfields & McCoys" and we saw that more than anything else in the "Vikings".
"Vikings" in my personal opinion had a slow start, but they quickly catch up to the pace of the best history series on the air today. The story centered on Ragnar (Travis Fimmel) progressive young Viking who is climbing up on the social ladder of Nordic society. His wife Lagertha (Katheryn Winnick) is a shield-maiden and their relationship together with recurring conflicts between Ragnar vs. Rollo (his brother played by Clive Standen) and ambitious and self-centered Earl Haraldson (Gabriel Byrne) is in the center of the season one. Also, in the season one we have two very useful plot devices which are on completely opposite sides of Dark Ages society specter. Floki (Gustaf Skarsgård) devoted believer in the Nordic ways, accomplished ship-builder and Ragnar's friend and Athelstan (George Blagden) an Anglo-Saxon monk originally serving at the monastery of Lindisfarne in Northumbria. That ideological and religious conflict, with immanent transformations will be the most interesting subplot of Season 1.
As you can see from all of the above even at its beginnings "Vikings" were very ambitious series, which used some of the schemes and the atmosphere of "Game of Thrones" and at the same time raised entirely different and very interesting questions. Athelstan, the monk from Northumbria was in the focus of the first few episodes and his relationship with open minded and progressive Ragnar quickly became a mutual feeling of respect and admiration. Ragnar's view of the world is in conflict with the view of Earl Haraldson and his men because the men in power in most cases don't like competition and because they are satisfied with the things as they are. Ragnar's first trip to the West was heavily criticized by historians as it suggested that the Vikings didn't know about the existence of Ireland or England, but I don't have a problem with it. Ragnar's character, although it was based on the Nordic legend, carries much of Leif Erikson as it does the legend it was based on. That first trip to the West is accompanied by the invention of the compass. An invention which allowed Ragnar to sail farther from the shores than anyone before him. In the Season 1, society of Kattegat will be torn between Ragnar's ambition for progress and Earl Haraldson's wish to keep the status quo.
It is logical build up to their conflict toward the end of the Season 1. Ragnar will face many trials during the season and one of the most important ones will be remaining true to himself in all the new wonders he sees. He is the natural leader of his people and when he meets Princess Aslaug (she claims she is a descendant of Brynhildr the Valkyrie and the dragon slayer Sigurd) his personal loyalties will come to question. In the emotional and the inevitable fallout his of marriage with Lagertha coming to the bitter and his young son Bjorn (Nathan O'Toole) will have to choose between Ragnar and his mother. Divorce was possible even in the Dark Ages, but only for the women like Lagertha whose reputation as a shield-maiden in a Viking society was almost as high as the one of Ragnar himself.
Court schemes are present in the "Vikings" as in all good historical drama. Rollo, Ragnar's brother is portrayed as a stubborn and unhappy man who is often offended with Ragnar's dominance and as all sidelined warriors he is privy to envy and naivety. What is different in "Vikings" from all the other historical series on TV these days is that Ragnar often fights few very different fights. In Season 1 he fought Earl Haraldson at home and King Horik of Denmark (King of the Vikings played by Donal Logue) plus the occasional westerners in his travels to the West. In all that he sees two steps ahead, Viking's society can't exist separate from the others with which comes in contact to and not every dominance can be achieved by violence and war. Athelstan's point of view will be very important for understanding series and its subplot in both season aired so far.
After the first season and fairly good reviews, Season 2 was expected with excitement. Some of the conflicts from Season 1 were resolved and some continued after the big fallout in the end. Loyalties were changed and relationships, broken and reforged, and it was clear that the biggest challenge for our protagonists will be dealing with a threat he poses to great King Horik. In the aftermath of Season 1, Horik stood together with Ragnar and Jarl Borg (Thorbjørn Harr) to share the spoils of the raids to the West but in the second season that agreement was threatened by conflicting views on the politics and influence in those lands. In a major league, fights which were on a bigger scale than those with Earl Haraldson in S01 Ragnar's character truly flourishes and some other characters will also shine while they forge new and unexpected alliances. Bjorn is now an adult and his performance in a fight has earned him the name of Bjorn Ironside (played in S02 by Alexander Ludwig). Example of him and Lagertha proved to us that some allegiances and feelings can't be shattered with such small things as infidelity.
Ragnar's new social status will make him arrogant at times and he will not understand that some of the people closest to him wish him only the best. His fascination with the ways of the Westerners will continue and both Athelstan and Floki will continue their significant subplot roles. Athelstan in particular will become even more important in S02 and his ideals will be torn between those of Anglo-Saxon Christianity and the Viking's paganism. He will learn that the two are not so different at all and that the arguments for their actions are basically the same. That will make him one of the most important characters of the season and he'll have great influence on Ragnar and his decisions. As you can imagine his ideological counterpart Floki will not see that as good news. Ragnar's fronts expand even further in S02. In the West he found a formidable foe in King Ecbert of Wessex (Linus Roache) and at home he will have to deal with treason and betrayal of some unexpected people. In all that there is always present danger of King Horik. His character manages to pull himself to the limit and at the end of the Season 2 approached the direction and combat scenes were more compelling than ever before in the series. Nordic mythology gave the series much needed spice and all the characters fell like dominoes to their positions waiting for all hell to break loose. Hell, after which nothing in the world of the "Vikings" will remain the same.
This would not be a good review if some strengths of "Vikings" as a show aren't mentioned. I simply have to mention cinematographer John Bartley, costume designer Joan Bergin and production designer Tom Conroy since photography of the show is breathtaking and scenography and costumes (even if criticized for historical inaccuracies) are well made and compelling. Where will S03 take us after the major changes in previous episodes we'll see but I don't doubt for a moment that it will be very interesting journey.
"Vikings" are a series to watch. Series that is not easily forgotten and the one which is worthy of reviewing more than once. Hopefully, "History Channel" will make more series like this and less alien, conspiracy crap they are feeding us these days. In the meantime
ALL HAIL RAGNAR!
RATING: 9/10